Happy May Day!
You can read all about our news here, but don't forget we regularly put out information by our social media channels – Twitter and Facebook.
Don't forget to send Anna your publications, seminars, conferences, calls for papers and other news and celebrations for publication in the newsletter (now published fortnightly on a Monday).
Seminar Series
We won't have our normal seminar this week due to the NTEU Stop Work Rally. Next week we will have a seminar with Margaret Hutchison (UNSW), and then on the 17th May Hannah Forsyth (ACU) will join us for her seminar 'Virtue Capitalists: the professional class and the rise of new class conflict c.1870-2008'. Our final seminar for the year with given by Scott McCarthy.
News from Members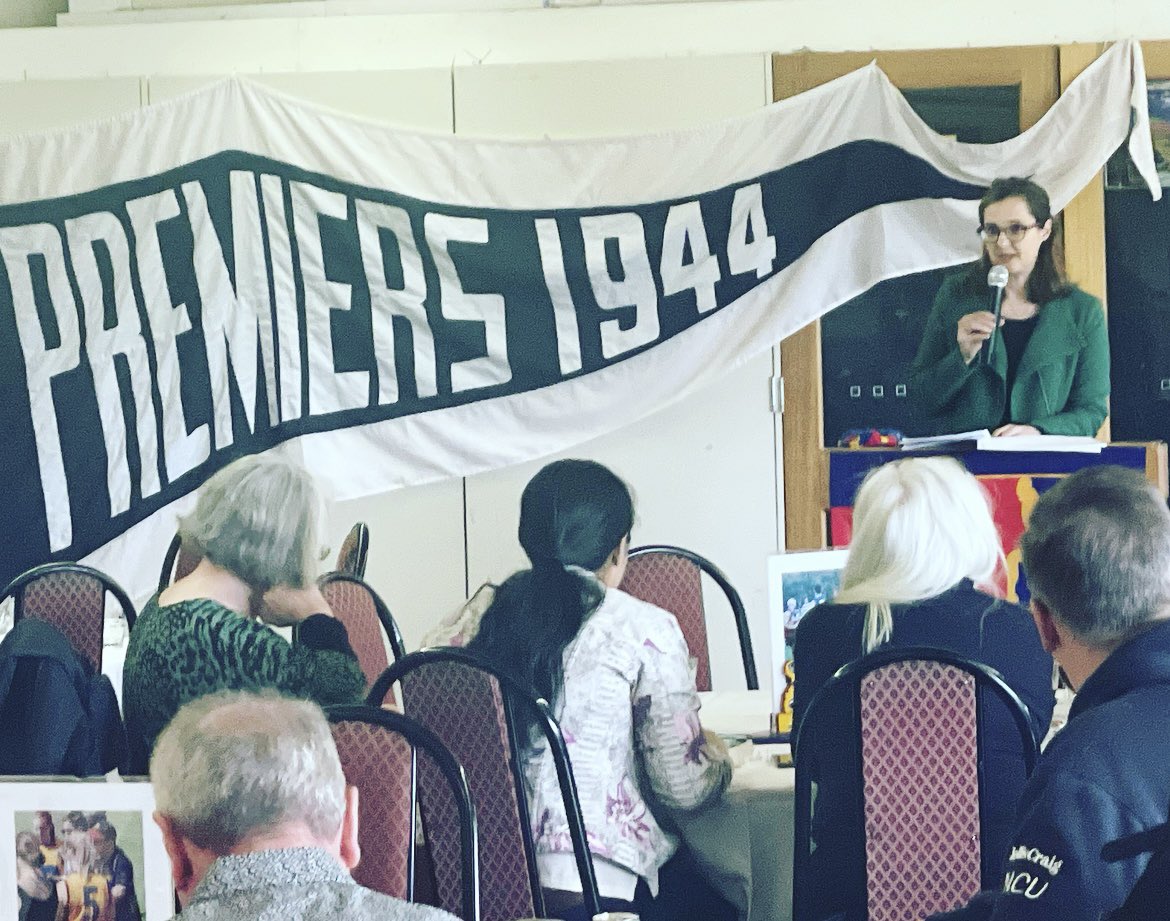 Carolyn Holbrook gave a special address to the Fitzroy Football Club Anzac Lunch on Saturday 22nd April, and was interviewed a number of times on radio – on 3CR The Anzac Myth in the 21st Century and RN (Life Matters) – How Anzac Day became the special day it is.
Bart Ziino co-hosted the ABC Anzac Day coverage with Raph Epstein.
Congratulations to Fiona Gatt whose PhD thesis, The lived experience of urbanisation in Hotham/North Melbourne, 1852–1905, has passed examination with no amendments and received outstanding feedback from examiners including: 'This thesis is a triumph of Australian urban history that will become the benchmark of its generation. Beautifully crafted and lucidly written, maintaining an important balance between necessary critical inquiry that such an interrogation of the past requires, but also a humane sensitivity to its human subjects, and impeccably researched and built from the ground up from an extraordinarily rich mine of primary sources, this is certainly the best urban history thesis I have examined in two decades.'
Fresh off that wonderful news, Fiona also co-hosted a workshop with Dr Stephen Pascoe (UNSW) and Dr Rachel Goldlust (La Trobe) – New Housing Histories Workshop. The one-day event, held at Deakin Downtown on Friday 21 April 2023 and sponsored by the Centre for Contemporary Histories, invited emerging and established scholars to engage in conversation about the future prospects of the field. You can read more about the event and find out how to join the New Housing Histories Network here.
Publications and Media
Carolyn Holbrook, along with Michelle Arrow and Frank Bongiorno, wrote a piece for The Conversation to mark Anzac Day – The Australian War Memorial must deal properly with the frontier wars. Carolyn also wrote another Conversation piece with James Walter – Will a preoccupation with party unity destroy the Liberal Party?
Event Reminders
Ugo Tognazzi: Tragedy of a Ridiculous Man
April 28 to June 30
Ugo Tognazzi: Tragedy of a Ridiculous Man initiative is a film retrospective and exhibition that celebrates the 100th (and one) birthday of Ugo Tognazzi, the famous protagonist of Italian cinema. Curated and realised by Victoria Duckett (Deakin University) and Elena Mosconi (University of Pavia), it runs from April 28 to June 30. It includes the screening of three films that have been recently restored by the Cineteca Nazionale at the Cinema Nova. These works represent milestones in Tognazzi's career: The Fascist (Il federale, Luciano Salce, 1961), Crazy Desire (La voglia matta, Luciano Salce, 1962) and  The Terrace (La terrazza, Ettore Scola, 1980). At the same time that a retrospective of film showcases Tognazzi's cinematic virtuosity, the exhibition traces the actor's career through a range of original materials. This includes posters and memorabilia on loan from the Tognazzi Archive in Cremona. Collectively, the Tognazzi works demonstrate a peculiarly 'Italian style' of comedy: this is a comedy in which an entire country is reflected, albeit through a critical, caricatured, and even tragicomic filter. Ugo Tognazzi: Tragedy of a Ridiculous Man is the result of a collaboration between Deakin University, the Italian Cultural Institute, Co.As.It, the Centro Sperimentale di Cinematografia – Cineteca Nazionale, and the University of Pavia, where the Tognazzi Archive is based (with the Cremona City Council).
Please see this TOGNAZZI Melbourne – interactive flyer, or click on the individual links: Exhibition Opening, The Fascist Screening, Crazy Desire Screening and The Terrace Screening.
Skills for New Historians Seminar #9: Addressing the Academic Job Application
Zoom, Tuesday 9 May 2023, 2;00pm to 3:30pm AEST.
The academic job market can seem a bleak and mysterious place. While there are plenty of online resources out there, information about academic jobs often presume that the idiosyncratic context of US job applications is the global norm, or fails to grapple with the unique requirements of our discipline. The next instalment of 'Skills for New Historians' therefore aims to tackle misconceptions and demystify the world of academic job applications for historians in Australia.
Speakers: Lisa Featherstone and Victoria Haskins. You can register here (AHA Members only).
Call for Paper Reminders
Crisis – A Conference
6-8th September 2023, UWA
The Limina collective conference committee invites proposals for 20-minute papers from across the breadth of humanities research, to explore the theme of Crisis. Please submit abstracts (max. 200 words) and a short (50 word) biography to liminacrisisconference@gmail.com by the 1st May (today).
Cover Photo
Women marchers, May Day Parade, New York 1909 (Bain News Service – Library of Congress)