Contemporary Histories Blog
'On Greer and her Archive'
Dr Sarah Pinto
Melbourne is a city with a critical mass of historians spread across (and beyond) its eight universities. Historical events and conversations, then, are never too far away, traffic, weather, and scheduling permitting. Several Melbourne historians were in the crowd last month at the University of Melbourne to hear about the newly-opened Germaine Greer Archive. Held on International Women's Day, 'Germaine Greer Meets the Archivists' was billed as an 'encounter' between several of the Greer Collection's archivists and Greer herself. The Greer Archive is a major collection: 'Greertown', as its curator Rachel Buchanan calls it, is currently made up of 487 archive boxes, or 82 metres of shelving, with more to come. The collection was carefully constructed and maintained by Greer over more than fifty years. Speaking at (and about) this 'encounter' event, Buchanan relayed Greer's comment that 'it is rare to find an archivist who wishes to be met'. Rarer still, I found myself thinking, would you find the subject of an extensive and intimate personal archive willing to meet that archive's new caretakers, in public, with an audience, specifically to hear them talk about what they had discovered (so far).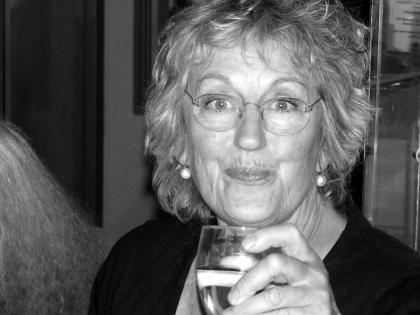 Several different versions of Greer can be found in her collection, as recounted by the archivists who spoke at this event (which included, of course, Greer herself). The archivists currently working through the collection – Buchanan, Sarah Brown, Lachlan Glanville, Millie Weber, and Kate Hodgetts – gave us Greer the researcher, writer, and public intellectual. There were also glimpses of Greer the gardener, the cat lover, the epistolarian, the publisher, the host, the recipe writer, and, inevitably, Greer the controversialist. But it was Greer the archivist who was the most intriguing version in evidence at this encounter.
In detailing some of her work with the Collection's Audio Series, Hodgetts played an interview from 1999 in which Greer explained that she was not interested in being remembered: 'I don't have ambitions to clutter up the future', she could be heard to remark, 'I'm not a Pharaoh, I'm not building a pyramid to myself'. Speaking back to her archivists, the 2017 Greer continued in this vein, insisting that she hoped to be 'absent' from the collection: 'the point of this archive is not me. This is not about me. It was never about me.' Instead, she described the collection as a 'portrait of a time, of a moment'. Greer also suggested that it might be best used as a contextualising device, giving researchers access into people's thinking on a range of issues at particular points in time.
In this sense, then, we might think of the Greer Archive as the archive of – and for – the historian, constructed with an imagined future researcher of its time and place firmly in mind. This seems particularly true of the Correspondence Series, which includes not only incoming correspondence but also carbon copies, photocopies and printed records of Greer's own letter-writing. This kind of collecting reminded me of Greer the biographer working against the archival invisibility of Ann Hathaway in Shakespeare's Wife (2007). With its extensive records of the words of ordinary people, and the careful recording of both sides of conversations, Greer's collection feels like the creation of someone who knows exactly the frustrations of archival research.
But what are we to make of this personal archive that is apparently not about its creator – or, indeed, its subject? What might it mean to be a researcher using an archive constructed by someone who 'doesn't want to be remembered', who insists that her own archive is not about her, who hopes to be largely absent from it? As I considered how I might answer these questions, I took the historian's approach and returned to the source, re-watching the event online. I realised I didn't have Greer's comment about her hope to be absent from the collection quite right. As she encouraged people to make use of the collection, Greer said: 'If you use the archive at any length you will be puzzled by my absence from it – at least that's, in a way, what I hope for.' Does she hope to be absent, or does she hope to be noted as absent? Either way, it seems to me to be much more likely that Greer herself, in all her guises, will figure most prominently in the work to come from the collection, as some of the first revelations of its contents have so clearly demonstrated.
Towards the end of the evening, Greer the archivist noted that she had not 'created' the Archive, but had simply 'kept it'. As historians are all too aware, however, archives are necessarily constructed and curated, shaped by their subjects, collectors, cataloguers and users in myriad, unpredictable, and often unknowable ways. It is perhaps unsurprising, then, that the historian Antoinette Burton suggests that we might think of archives as 'full-fledged historical actors'. When it comes to the Greer Archive, nothing could be further from the truth.